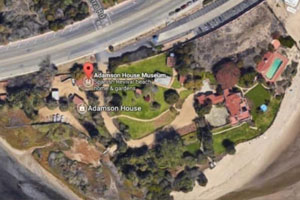 Adamson House Museum
Individual & Group Tours
Telephone: 310.456.8432
Address: 23200 Pacific Coast Hwy Malibu, CA 90265
Built on Malibu Beach in 1929, this home is famous for its art deco tile from Malibu potteries and its beautiful grounds used for weddings and events. Beautifully preserved with original furnishings, the home and grounds are open to the public for home tours, garden tours, a gift shop, and a wonderful Malibu history museum.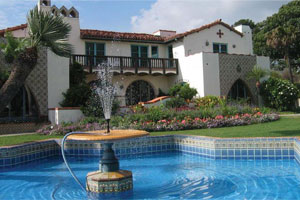 Getty Villa
17985 Pacific Coast Highway
The Getty Center is renowned for its permanent collection, which includes pre-20th century European paintings, drawings, illuminated manuscripts, sculpture and decorative arts; 19th and 20th century American, European and Asian photographs and contemporary and modern sculpture. The Museum was modeled after the Villa dei Papiri, the largest and most luxuriously furnished seaside villa that had been found during the early excavations at Herculaneum in Italy in the 1700s.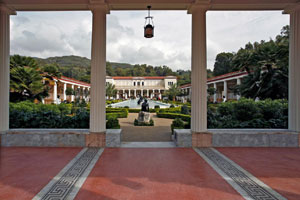 23200 PCH, Malibu, CA 90265
Also known Malibu Beach, this beach was the center of the California surf culture in the 50's and 60's. Surf legends made their names here and it is now home to Malibu's annual surf contests. Adjacent to the beach is the Malibu Pier, theMalibu lagoon bird sanctuary and the Malibu Colony.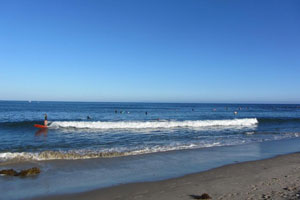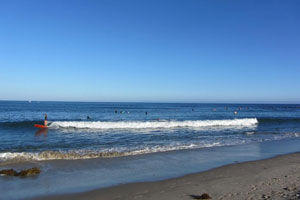 23200 PCH, Malibu, CA 90265
Located next to Surfrider Beach, the Malibu Lagoon is where the Malibu Creek meets the sea. It's a newly renovated bird sanctuary where you can meander along paths to scout for birds, take in the views, or enjoy a picnic at a number of places along the path. You can watch migratory birds from a lookout point or walk the path behind the Malibu Colony to the beach.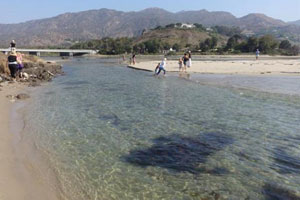 3000 PCH, Malibu, CA 90265 Telephone: 310.706.1310
This historic landmark sits in the heart of Malibu overlooking the famous Malibu Surfider Beach. At the end of the pier you'll find a gift shop, The Farm restaurant, whale watching excursions, sportfishing trips, or fishing from the pier with equipment rentals available.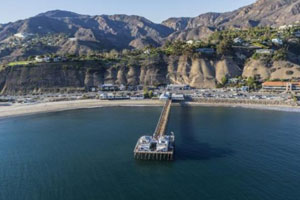 Malibu Creek State Park
Malibu Creek State Park is located just 25 miles from downtown Los Angeles. The beautiful park has over 4,000 acres, featuring hiking, fishing and camping. Malibu Creek State Park is a popular destination for campers and hikers who want to experience the beauty of Malibu's mountains and canyons. The Park has one park entrance with a large parking lot. A vehicle fee is charged for this area of the park, which offers convenient trail access …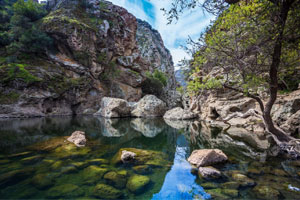 24255 Pacific Coast Highway, Malibu, CA 90263 310.506.4000
Located near the center of Malibu, this private Christian university features spectacular ocean views and an outstanding reputation. In addition to its programs for students, Pepperdine offers Malibu residents access to the swimming pool and gym through The Crest Club, and brings the arts to Malibu through its Center for the Arts and the Frederick R. Weisman Museum.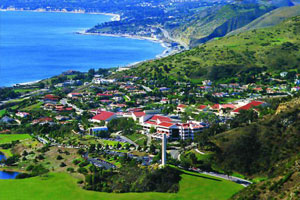 23500 Civic Center Way
Malibu, CA 90265
Facility Use Information: 310.317.1364
The Malibu Legacy Park Project is the centerpiece of the City's commitment to improving ocean water quality and improving public health. A multi-benefit project for the environment and the community, Legacy Park addresses critical issues, including bacteria reduction in stormwater treatment, restoration / development of riparian habitats, and the development of an open space area for passive recreation and environmental education. Created with funding from the City, grants, and $2.5 million in private contributions from the Malibu community, the $35 million project transformed 15 acres in the heart of Malibu into a central park that is one of the most ambitious and innovative stormwater and urban runoff projects in California. The clean stormwater is then reused for irrigation of the park. The creation of Legacy Park also restored and developed important native coastal habitats, while creating open space for passive recreation and environmental education. It offers a living learning center, informational kiosks, an outdoor classroom, a cultural interpretive center, and numerous other features to provide information and education about flora and fauna along the Southern California coast.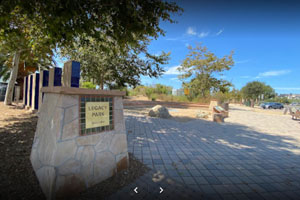 24255 Pacific Coast Highway, Malibu, CA 90263 310.506.4000
This six acre community park is located at the intersection of Pacific Coast Highway and Malibu Canyon Rd. The park has baseball diamonds, a soccer field, a jogging path, whale watching station, childrens play area, and the Michael Landon Community Center featuring classes of all kinds for all ages. Located in the heart of Malibu, Michael Landon Community Center and Bluffs Parks is a gorgeous venue for your next picnic, holiday, or corporate event. Known for its beautiful nature, amazing location to the beach and its calm and relaxing atmosphere. Facilities can be leased for events, meetings, classes etc. Call Malibu City Hall for more information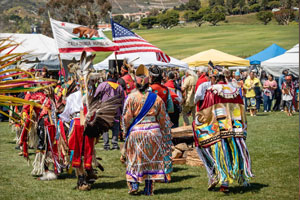 28128 Pacific Coast Highway, Malibu, CA 90265
Paradise Cove is famous for its beautiful beach, restaurant on the sand, and state pier that offers public access and pier fishing. The Paradise Cove Beach Cafe offers outdoor dining, lounge chair rentals, and private seating areas. This spot is a well known filming location best known as the place where the Rockford Files tv show was filmed.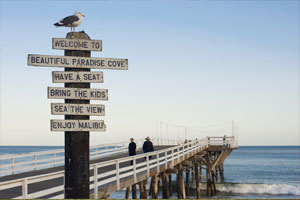 Westward Beach Rd, Malibu, CA 90265
The Point Dume Nature Preserve features 32 acres of trails, headlands, cliffs, rocky coves, two of Malibu's most beautiful beaches, and the best whale watching platform in Malibu. On the south side of the Point is Big Dume Beach accessible by stairs from Cliffside Drive. The north side is Point Dume State Beach at the end of Westward Beach Rd. This beach has lifeguards, restrooms, and easy access parking.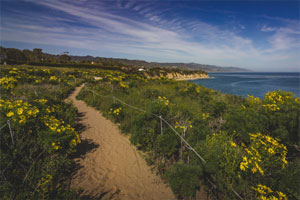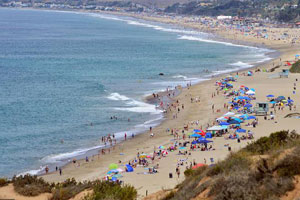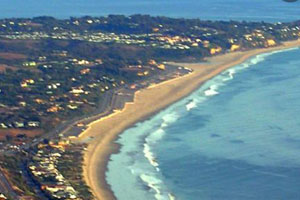 30000 Pacific Coast Highway, Malibu, CA 90265
Zuma Beach is one of the most famous and popular beaches in Southern California. Zuma stretches for almost 3 miles long and offers many amenities including restrooms, outdoor showers, lifeguards, a food stand, volleyball nets, and easy access parking.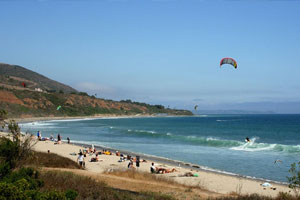 Additional Public BEACHES
Surfrider Beach
Topanga Beach
La Piedra
El Matador
El Pescador.
Leo Carillo
Paradise Cove
Malibu Lagoon
Zuma Beach
Westward Beach
Dan Blocker
Nicholas Canyon Beach
Las Tunas Beach