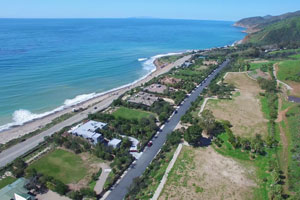 MULHOLLAND HWY. DECKER CANYON AND ENCINAL CANYON
Beginning at PCH and winding along paved two-lane roads through the Santa Monica Mountains, all the way to Westlake and beyond, you'll find special retreats, equestrian properties, wineries, ranches, ranch style homes and private estates. You'll be transported to a world away from the hustle and bustle of Los Angeles and city living. Yerba Buena, Deer Creek, Encinal Canyon, Decker Canyon and Mulholland Hwy all begin at the Pacific Coast Highway and often merge with each other. Follow them on the other side of the hills\ and, you will end up in Westlake or Agoura.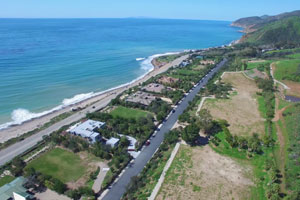 MARISOL – ELLICE STREET
A small gated private community of newly built expensive estates overlooking the Pacific Ocean at the far west end of Malibu in Ventura County. A handful of amazing, beautifully designed and landscaped retreats make up this very unique and exquisitely executed community. There are still a few lots available for that discerning Buyer who wants to build their own special piece of heaven.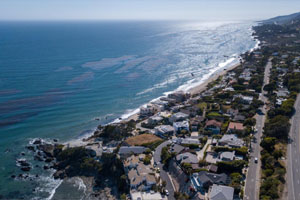 UPPER BROAD BEACH
A very special group of homes located on the oceanside of PCH, many of which are built on smaller lots. Quite a few have been re-built or remodeled over the years and enjoy quick and easy access to a gorgeous sandy beach. There is also a group of homes that are built on the bluff side of Broad beach and overlook Sea Level Drive and the beach. They are unique in that they have deeded access to the wide sandy beach below and often benefit from being on larger lots.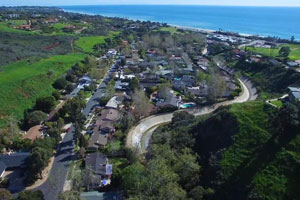 MALIBU WEST RESIDENTIAL COMMUNITY
Located just beyond Trancas Canyon Rd. and PCH, there is a community close to beaches, schools and shopping. It is comprised of mostly single family residences on smaller lots and a small grouping of condos. It offers a range of amenities for the owners which include: a private beach club with a club house for parties and events, tennis courts, a self contained sewage treatment facility, underground utilities and private streets. These are some of the more reasonably priced homes and condos in Malibu close to the beach. The newly renovated shopping center, located at the corner of Trancas Canyon Rd. and PCH includes: Vintage Market grocery store, Kristy's restaurant, Starbucks, Postal Annes, several clothing stores, candy store, bank, surf shop and more. During the summer on Friday nights the community gathers on the grass to hear a variety of local, talented bands.
TRANCAS HIGHLANDS
If you continue up Trancas Canyon Road you'll reach gated, Anacapa View, which is comprised of hillside homes with panoramic coastline views, situated on larger lots. There is also a newly created Trancas Park which has a dog park and playground area. Most of these homes are on well water and there has been a move by the homeowners to bring a waterline up to the area from Trancas Canyon Road.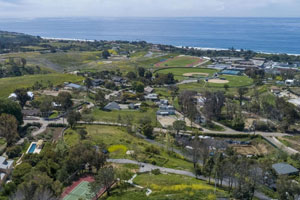 MALIBU PARK and BONSALL CANYON
Malibu Park is an area that runs parallel to Zuma beach and stretches up to the base of the mountains between Trancas Canyon and Bonsall Canyon Drive. The area is well known for its equestrian properties and expansive estates intermixed with many smaller ranch style homes. This area is also home to Malibu High School and Malibu Middle School. Many of the homes have views of the ocean and mountains. It is a great family area and has hiking and riding trails and abuts National Parkland. It is also close to the recently renovated and very popular Trancas shopping area. Along with Point Dume, Malibu Park and Bonsall Canyon, this area has its share of celebrities who have chosen Malibu as a place to get away from the spotlight and often have decided to raise their families here. As a member of this community I love the peace and quiet of the neighborhood, even though it is just minutes to the beach, hiking trails, restaurants, markets and the main artery through Malibu, the Pacific Coast Hwy.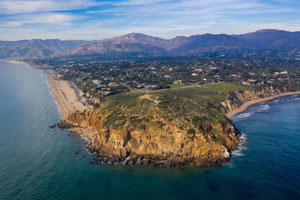 POINT DUME
Point Dume is one of the most sought after locations in Malibu. It's a tree-lined neighborhood with an elementary school, shopping center, private beach access for those with deeded beach rights, a nature preserve, and some of the best views in Malibu. Home prices range from just over $4 million to over $40 million. Most of the properties are on approx. one acre and have some of the older Malibu ranch style homes, while other homes have been re-built and feature large homes, pools, tennis courts, landscaped grounds and access to the beach. Pt. Dume has attracted surf enthusiasts, high net worth individuals and families. The bluff front properties on Point Dume have some of the most expensive homes. Overlooking the ocean, they offer incredible coastline views and sometimes direct access to the beaches below. The gated and "all age" Point Dume Club mobile home park features homes in the range of $400k to $2.5 million and offers a clubhouse, large pool, tennis court, ocean views and access down to Zuma and Westward Beaches. Point Dume is also the location of Zuma Bay Villas, a widely sought after guard gated community with townhouses ranging from $1.45M up to $3.5M on the bluff front. There is a pool, spa and tennis court with private steps down to the beach. Residents can often be seen, walking, riding their bikes or driving their golf carts to the market or the beach entrances. Point Dume Village has a market, bank, bakery, coffee shop, restaurants, pizza, SunLife Organics plus much more.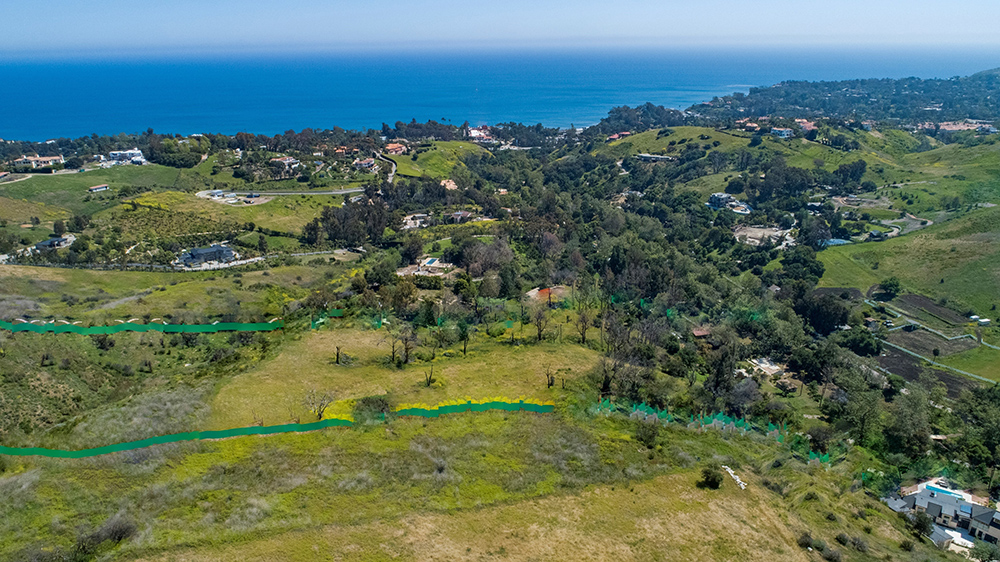 WINDING WAY and RAMIREZ CANYON
The Winding Way area has two different entrances and offers homes with beautiful ocean and mountain views. Most of the homes are on at least one acre nd vary in size, style and views. There is a public hiking trail along Winding way east that leads down into a canyon and a well known hike back to Escondido Falls (which does run when it rains). Ramirez Canyon is private and gated and is a flat bottom canyon that dead ends at the Streisand Center and offers beautiful oak and sycamore trees, along with Ramirez Creek that flows through the canyon. Some of the older homes in Malibu with gorgeous grounds are located here in Ramirez Canyon. Many residents enjoy driving their golf carts through a one lane tunnel under the highway to the beach and to Paradise Cove Restaurant, one of the only Malibu restaurants right on the sand.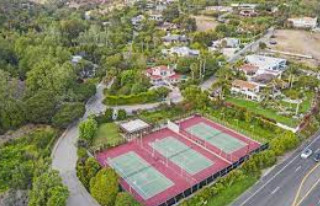 SYCAMORE PARK
This private charming community is situated against the Santa Monica Mountains with a tunnel that goes under the PCH and accesses Escondido Beach. There are extensive groves of Sycamore Trees that line the private roads and offer shade and beauty to the cottages, ranch homes and large estates. There is also a tennis club at the beginning of Sycamore Park, where membership is afforded to a select number of residents. Many homes have beautiful ocean and or mountain views.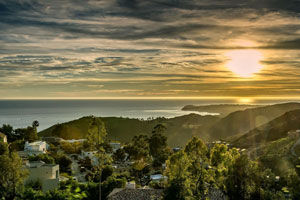 CORRAL CANYON and LATIGO CANYON
These two landside canyons are reached by winding roads that rise up into the mountains. Corral Canyon has two distinct areas, the El Nido area which offers small lots and homes at reasonable pricing and there is the Malibu Bowl which is farther back in the canyon and also has homes on smaller lots, many with ocean or canyon views. Corral Canyon Road dead ends at a beautiful State Park with hiking trails and ancient caves. Latigo Canyon winds through the mountains where it eventually connects to Kanan Dume Road. There are many homes in the Latigo Canyon area ranging from small tucked away cottages to larger estates.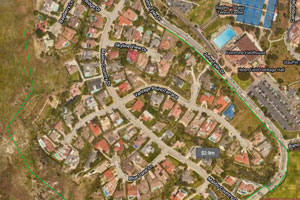 MALIBU COUNTRY ESTATES
Bordered on the east by Pepperdine University, Malibu Country is a community of approximately 107 single family homes, many with pools, that were built after the 1980's on smaller lots and tied into the Pepperdine Sewage treatment facility. It has sidewalks, paved streets, underground utilities, street lights and feels more like a suburban community, unusual for rural Malibu. It is located across from the Michael Landon Community Center and Little League softball fields and soccer fields.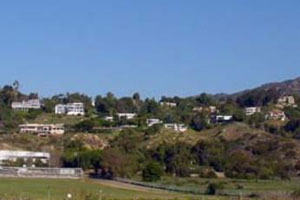 MALIBU KNOLLS
Driving a short distance up Malibu Canyon, you'll come upon several streets on the right that lead to approximately 65 residential homes overlooking Malibu's Civic Center Way, offering panoramic mountain and coastline ocean views. This desirable area is just down the street from Malibu's Civic Center and accesses Malibu Canyon, which leads over the hill to Agoura, Calabasas, Westlake and Thousand Oaks. The homes vary in size and architectural style, and they almost all have great views of the mountains and the ocean.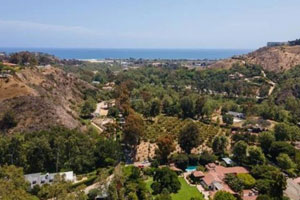 MONTE NIDO
Continuing through Malibu Canyon you'll come to an area that begins along Piuma Drive and is bordered by Mulholland Highway on the north. This area is known as Monte Nido and it is a hidden treasure offering beautiful homes (large and small) with massive sycamore and oak trees and one lane roads with bridges. Horses can be seen in many corrals and barn areas along with dogs, cats and other pets. It is a terrific family area and offers privacy, beauty and a great lifestyle.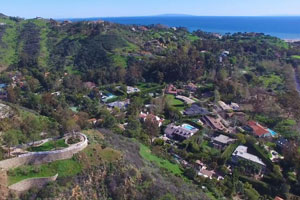 SERRA RETREAT
Serra Retreat is a quiet creek and hillside neighborhood located at the base of Malibu Canyon. It's a lush, private, guard gated community with a few remaining equestrian properties and many stunning estates. This enclave is well known as an exclusive area for celebrities and world renowned entrepreneurs. It includes the Sweetwater Mesa area, which also overlooks the Malibu Pier and Malibu Colony. Beautiful estates are found here as well as comfortable modest Malibu homes. It is also home to the Serra Retreat which was originally the main home of the Rindge Family, who owned all of Malibu in the early 1900's. Serra Retreat is close to Santa Monica and easy access through Malibu Canyon to the 101. You'll find many of the approximately 100 homeowners walking, riding their bikes or driving their golf carts to the shopping plazas right down the street, or visiting the Malibu Lagoon across the highway. It is a very prestigious and desired neighborhood.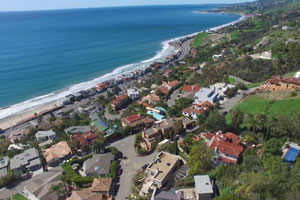 LA COSTA LANDSIDE AND CARBON MESA AREAS
One of the best features of the La Costa landside homes is the deeded ability to join the La Costa beach club and have access to separate tennis courts. The homes have beautiful coastline ocean and often city lights views and are situated on smaller more easily maintained hillside lots. Many were re-built after the 1993 fire so they are newer architectural homes on multiple levels, taking advantage of the beautiful ocean views.
There is a signal at the highway and Carbon Canyon Rd. and if you follow it up you will encounter the Carbon Mesa area. Homes here are comfortably spaced along a long winding road that dead ends at a cul de sac, providing gorgeous coastline and ocean views. Many of the homes were re-built after the 1993 fire and are newer, often architectural homes on usually one or more acres.
RAMBLA PACIFICO
Both Las Flores Canyon and Rambla Pacifico will take you up into the hills where you will find homes scattered mostly on hillside lots. Many of these homes have amazing ocean views and offer privacy and seclusion from the hectic streets of the more urban areas.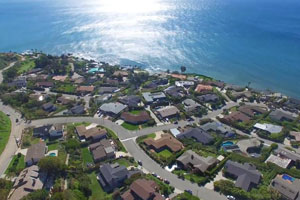 BIG ROCK MESA
Off the Pacific Coast Highway and up a steep hill you'll find the terraced paved roads of the Big Rock Mesa neighborhood. The homes are usually on smaller lots and many have sweeping coastline views from Santa Monica Bay to Point Dume. Trees, shrubs and gardens are abundant and the homes, while usually on the smaller side, have attracted people who really like this neighborhood, which is usually a ten minute drive to Santa Monica
BEACH AND BLUFF FRONT AREAS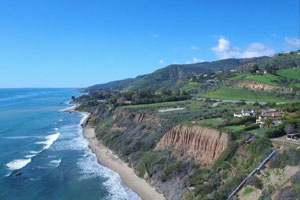 COUNTY LINE AND THE ENCINAL BLUFFS
Starting just past the Ventura County Line and heading east down the coast there is a short stretch of beach front homes, and there are two condominium complexes. A favorite kite surfing and surfing spot with breezy afternoons, enabling those sports enthusiasts long rides out in the ocean.
The Encinal Bluffs are home to some of the most exclusive estates in Malibu. This area stretches approximately from Nicholas Canyon Beach down to El Matador Beach. The properties here typically start at the Pacific Coast Highway and extend to the beach with some of the most breathtaking views, secluded coves and sandy beaches. There are a few gated roads that have approximately 6-8 homes on them as well, and all have beach and ocean access. These bluff front and beach homes are among the most private in Malibu and command some of the highest prices. The Encinal Bluffs entree also home to El Matador, El Pescador and Piedra Chica public access ways and beaches.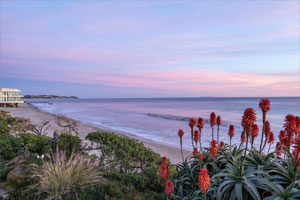 SEA LEVEL, WEST SEA LEVEL AND VICTORIA POINT
These three charming gated areas at the far west end of Broad Beach Road are accessed through Sea Level Drive, West Sea Level and Victoria Point. There are a handful of charming homes on the beach and on the land side. A deep sandy beach awaits the homeowners on West and East Sea Level Drive. Three public walking access ways are open during the day and closed at night. The homes on Victoria Point have access to Broad Beach at low tide and are built so that they step down the hillside.. At low tide one can be seen walking from Sea Level all the way up to El Matador Beach, a magnificent stretch of seaside heaven……..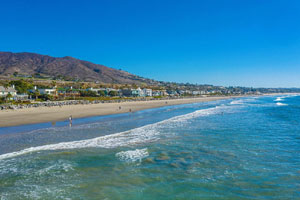 BROAD BEACH ROAD
The deepest, sandiest beach in Malibu is Broad Beach Road. Most of the beach front homes are on single 40' lots, but there are multiple double and triple lot estates. Located just below the Pacific Coast Highway, there is ample parking for friends and family. What used to be an area with small, cozy beach cottages now has mainly large re-built architectural homes, and is enjoyed primarily by those people enjoying a second or third vacation home. In addition, two public accessways are open during the day and closed at night. People can use the beach below the mean high tide line. A mostly quiet street with a neighborhood feel, this portion of West Malibu has been inhabited by successful business entrepeneurs, A-Listers, celebrities and long time residents of Malibu who enjoy getting away from the hustle and bustle of the City.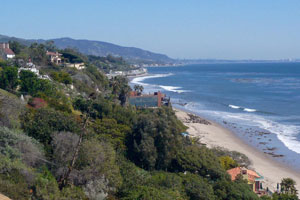 PARADISE COVE
Paradise Cove is one of the most beautiful areas in Malibu where estates south of the Paradise Cove pier can command prices over $100 million. The larger parcels are quite private and usually have bluff frontage with magnificent views as well as access to the beach. Many are on two to three acres, offering offer privacy and seclusion. There is also a private gated road that has several homes that all have beach access. It is also the home of the Paradise Cove Mobile Home Park, dubbed "Americas Most Glamorous Trailer Park" by the New York Times in 2015, where prices range from $400k to $4.5 million. The location is stunning and known for it's breathtaking bluff top location, privacy and views.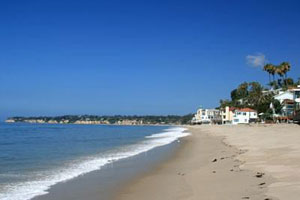 ESCONDIDO BEACH
Escondido Beach is just east of Paradise Cove. The homes here sit on a beautiful wide sandy beach making it a great playground for beach activities. Homes are accessed by a small private road that runs parallel to Pacific Coast Highway. This is a great walking beach where residents and guests can walk all the way to Point Dume State Beach.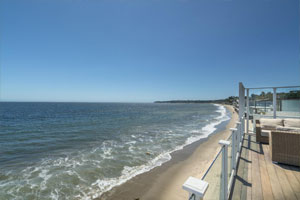 MALIBU COVE COLONY
The Malibu Cove Colony is a private guard gated community just east of Escondido Beach. Unlike its neighboring beach, the homes here sit above the water on wood piles or concrete caissons. This beach is known as a wet beach, where it is a sandy beach but not always dry due to the tides. The homes are buffered and protected from the highway by a beautifully landscaped hillside and most enjoy interior courtyards at their entrances. Most of the homes are on 50' wide beach lots and enjoy ample parking, the privacy and ability to walk on the street with dogs and kids.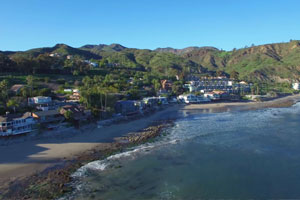 LATIGO SHORE DRIVE
One of the first beaches to be developed in Malibu, this is a private road with a sandy beach and a good surf break. You'll find a mix of cottage style beach homes along with newer architectural homes. Latigo Shore is off the PCH and offers a more relaxed, "Old Malibu" feel. It is also the location of a large condominium complex that has it's own beach across the road.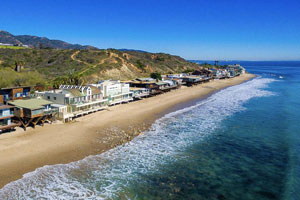 MALIBU ROAD
Located just west of the Malibu Colony, Malibu Road is centrally located and has become a very desirable beach. Discerning home buyers who want to be close to the center of Malibu can find high-end architectural homes as well as smaller beach cottages (which are rapidly being replaced by larger homes). Most of the beach is sandy, but in the summer the east end is rocky and access down to the ocean is not as easy. Most of the homes are built on caissons or wood piles. There are amazing views of the coastline and homeowners can easily get to Ralphs Supermarket, Whole Foods, the Lumber Yard Shopping area, the Country Mart, The Park shopping area and the Malibu Colony Plaza. Restaurants close by are: Tra Di Noi, Café Habana, Taverna Tony's, Marmalade, Lucky's, Malibu Kitchen, Sunlife Organics, Howdy's Sonrisa, Chipotle, Ollo, Bui Sushi, The Real Coconut, V's, Nobu, The Farm, Carbon Beach Club, Cliffside and Tramonto.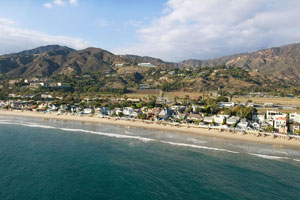 MALIBU COLONY BEACH
The Malibu Colony was one of the first beaches in Malibu to be developed. It's located on a stretch of coastline just west of Malibu Surfrider Beach and the Malibu Lagoon. Since the mid 1920's The Colony has been a movie industry neighborhood well known for its famous residents and infamous parties. Todays homeowners are more from all walks of life and are likely to be using the homes as vacation destinations. They often lease their homes out seasonally or long term. This guard gated community is highly sought after for its privacy and beachfront lifestyle.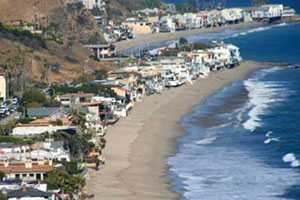 CARBON BEACH
Also known as Billionaire's Beach, this stretch of Malibu estates is home to Larry Ellison who owns multiple properties as well as a variety of well known celebrities, high net worth individuals and full time residents. The homes here are close together which is why some of the residents purchase multiple lots for privacy. Malibu's finest hotels (Malibu Beach Inn and Nobu Hotel) sit on this beach along with the famous Nobu restaurant, and several long time apartment/condominium complexes. It is a dry sandy beach that is adjacent to the Malibu Pier.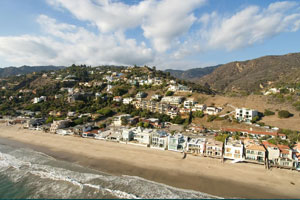 LA COSTA BEACH
Homes along La Costa Beach are mostly Mediterranean and Architectural with 40 to 50 feet of beach frontage. It's one of the few beaches that currently has no vertical public access from Pacific Coast Highway, making it one of the most exclusive beaches in Malibu. Residents across the highway enjoy exclusive access to the neighborhood's La Costa Beach Club situated in the center of this stretch of beach.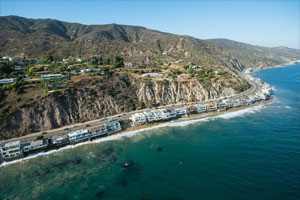 LAS FLORES BEACH
Nicknamed "Dog Beach" since so many homeowners have dogs and spend time walking them on the beach, this is the first beach east of Las Flores Creek and Duke's Malibu Restaurant. The homes are again situated between the Pacific Coast Highway and the Pacific Ocean and are built on caissons and wood piles. Many of the older beach cottages have been and will continue to be replaced by newer larger Architectural homes. The narrow sandy beach can disappear during high tides, but it is definitely considered a walking beach during low tides. This is a great place to view dolphins and sometimes sea lions. Not much parking on the highway and garages are at a premium.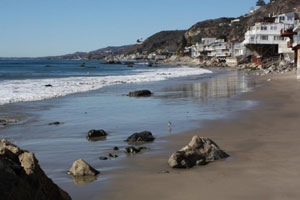 BIG ROCK BEACH
This is definitely one of the areas where the mountains meet the sea and the homes are built on wood piles or concrete caissons. It is a mix of old and new single family homes and multi-family residences. Walking the beach is usually limited to low tides, but the coastline views and the city lights views at night are just gorgeous. Large boulders in the ocean are often a place where you will see seals sunning themselves and with dolphins playing nearby in the surf.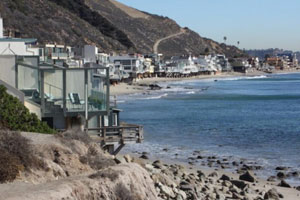 LAS TUNAS BEACH
Las Tunas is a short stretch of mostly rocky beach, with homes primarily on narrow lots. It is a mix of single family homes and multi-family residences which are balanced between the PCH and the ocean. The close proximity to the City makes this stretch one of the desirable ones for those people who have to drive into town for work every day.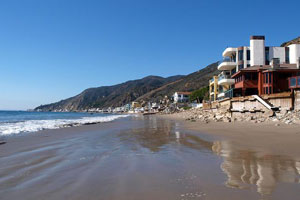 TOPANGA BEACH
Heading up Highway 1 or the Pacific Coast Highway, the first beach area east of Santa Monica is Topanga Beach, which has a small grouping of homes on the beachside of PCH. It is considered a surfing beach and you will see cars parked along the highway while the surfers paddle out to catch the waves on a good day. Real Estate is comprised of smaller and often older homes along a stretch of coastline that is sandy, but often rocky.