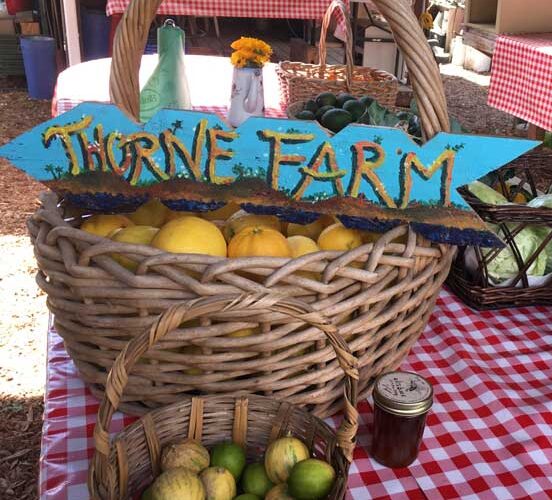 The Thorne Family Farm has been here in Malibu for over 50 years, and even during these current trying times, the Thornes are still making fresh and local food available for our community. They've transitioned from their regular Saturday farm stand to Saturday pickup of custom orders. The farm is located on Bonsall Drive, and is full of trees and flowers and lush greenery. Most of the produce is grown right there on the property, with offerings occasionally supplemented by other specialized local growers.
In the past the farm has hosted a variety of different activities in addition to the farm stand, from a pie making workshop to a goat yoga class. You could pass through the fence into an avocado grove where their lovely neighbor hosted the small and delightful Owl Cafe – a simple outdoor setup to enjoy a cup of coffee and some fresh air among the trees.
While circumstances are different now due to the all important "social distancing" and "safer at home" directives, the Thornes are still making fresh food available. Visit their website thornefamilyfarm.com, to place your order for a custom farm box for pickup. In addition to various fruits & vegetables, from berries to citrus to avocados to greens depending on your preference (and availability), you can add some of Eli's local honey, or Laurel Thorne's homemade jam. Also on offer are fresh eggs, fresh flowers, a variety of bread from Tartine, and baked goods from Varsity Bakers.
You can even add individual meals from the Malibu Farm Restaurant (the menu options are listed on the site), or a complete pre-selected "quarantine box", ready to feed 2 or 4 people for 5 days, with meat & vegan options. Details can be found on thornefamilyfarm.com.
Your order will be available for pickup at 6043 Bonsall Drive on Saturdays from 9am-2pm (for orders placed by Wednesday at 9pm). At the pickup spot on Saturdays there are also additional offerings for cash purchase – they vary somewhat depending on availability but there are always great choices. Make sure to check the website for any updates or changes to their protocol.
I've been regularly ordering their beautiful produce and am so grateful to be able to bring such fresh local food back to my home. My husband and our four-legged family members are also grateful!
As we look forward with hope that things will eventually start returning to normal, in the meantime we are so grateful that the Thorne Family Farm continues to provide for our community, as it has done so graciously for so many years.
These photos are ones we took a few months ago of this beautiful local gem.