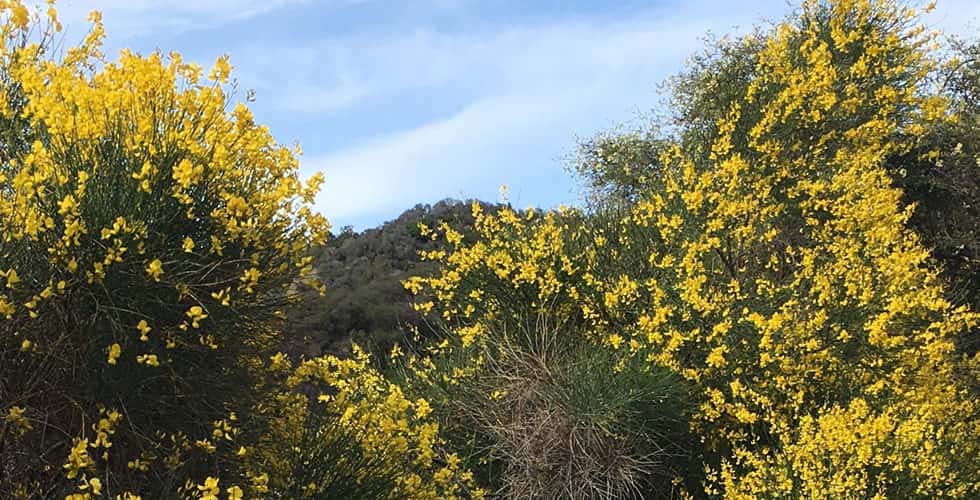 Move over Malibu beaches. An epic once-in-a-decade wildflower "super bloom" is here and it's now the talk of the town. Thanks to a stormy winter that brought record breaking rainfall to California, we are officially drought free. While I love the "Old Western Charm" of Malibu in the dry months, there is something truly magical about Malibu in the spring. And this spring is exceptional!
Spectacular yellow Scotch broom flowers growing 10 feet tall abound along the hillsides and canyons especially along Kanan/Dume Road. Our state flower, the California poppy, blankets the Point Dume headlands and the meadows near Pepperdine University. Bright yellow mustard seed flowers grow wild along Pacific Coast Highway, and stunning yellow daisies brighten our beach trails and hiking paths.
Meanwhile, native green grasses now fully cover our hillsides and mountains, and bright blue skies with puffy white clouds lure the artists with their easels out to capture all of this stunning beauty. So head for the hiking trails or get out for a drive to enjoy some of the most spectacular scenery in Southern California.
In addition to the natural beauty that spring bestows, it's a bountiful time for local organic farms and private gardens. Raised bed gardening is big in Malibu and it's one of my favorite outdoor hobbies. Giant sunflowers towering over a garden of delicious home grown produce is a sight to behold. And if you don't grow your own, Malibu's Sunday farmer's market is the place to be.
Here are some great places to see the wildflower bloom: Point Mugu State Park, Charmlee Wilderness Park, and Malibu Creek State Park.